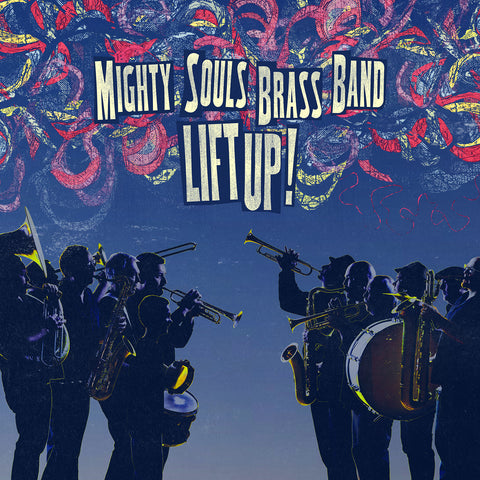 Lift Up!
It was a dream Sean Murphy had fostered since high school, ever since he'd first dipped an ear into the Dirty Dozen Brass Band's discography.
Murphy had a vision of a brass-band outfit anchored by a tuba bass line—a combo that could draw from New Orleans traditions, but one that mainly honored the deep, wide-ranging musical history of Memphis, Tennessee. And it took a couple of decades of woodshedding in a wide array of formal and improvisatory settings, but today, tuba player/composer Murphy and a group of crack-shot co-conspirators are brewing a strong, soulful pot under the moniker Mighty Souls Brass Band, comprising some of the city's most sought-after musicians, putting a uniquely Memphis spin on a tradition that's as global in its scope as it is root-deep in American popular music.
Mighty Souls Brass Band, a rotating collective of composer-players versed in a multitude of musical traditions, isn't a soul band, nor is it a funk band, a marching band, or a swing band. And yet, depending on where you catch them live, you'll hear all of those influences, as well as more from around the globe, in the group's music.
"We're not interested in just being a bunch of Memphis musicians playing New Orleans-style brass band music," says Murphy. "We love that music, and we honor it. But we love Memphis music too, and world music, and we want to pay tribute to that history. And it's a deep one."
True enough. Check MSBB's roster, for one thing—an evolving list of knockout players whose chops around Memphis are long-established. The group began to coalesce in 2012, when Murphy and Jim Spake came together to play a New Orleans-style funeral, accompanied by horn player/vocalist Jeremy Shrader and percussionist Earl Lowe. Murphy, who has spent 13 years honing his chops in an improv dance and music group, found a kindred spirit in the wildly versatile Spake, whose sax playing appears on three decades' worth of albums by Alex Chilton, Al Green, the North Mississippi All-Stars, Natalie Merchant, and dozens more. When Murphy outlined his project—a brass ensemble whose repertoire drew from American soul and funk as well as global traditions—Spake jumped at the chance, as did a host of other players from Memphis' powerhouse session-musician community. On any given night the talent represented onstage at a MSBB show can run from five to 14 members deep, showcasing some of the best and most esteemed players in the city's rich performance pool.
That elasticity—of personnel, and of the music—allows MSBB to enjoy a lot of flexibility in its arrangements and live performances. "That's the great thing, one of the great things, about this group," says Jim Spake. "Sean's got to be there, he's our fount of craziness. But it can be a different band on any particular night. In other settings, you might think, 'Oh no, man, we don't have our bass player?' In this group, the feeling is more like, 'Hey, who's playing today…? Cool…'"
That portability brings us to MSBB's many diverse gigs, which can take them—as the band's lively booking schedule recently did, over the course of a single day in October 2014—from a morning show playing globally-derived "world brass band" music for children age 8 and younger, to an afternoon's polka-inflected set at an Oktoberfest party, to an evening opening for (and backing) New Orleans legend Dr. John. To hear Murphy talk about the heady blend of styles the MSBB works in is to hear how the band's music drinks deep from a multitude of sources. The tight, polished work of MoTown's session horns; the gritty, dirty inflections of New Orleans' funky Meters; the slippery R&B of Memphis' own Booker T. and the MGs—it all finds a place in the thumping heartbeat of Mighty Souls Brass Band.
For proof, check the band's debut album—Lift Up!, on Blue Barrel Records—largely recorded live, to catch the infectious synergy of the group. You'll hear all of these influences, but you'll also hear the writing and arrangement talents of the MSBB's members, who themselves composed ten of the album's dozen tracks. This vigorously creative impulse, this desire to weave something new from the threads of various traditions, is what makes Mighty Souls Brass Band a unique act even among brass ensembles. Rooted by bandleader Murphy's sousaphone ("I like to say I play the 'brass bass,'" he notes cheekily), MSBB has talent to burn, and that talent burns bright and fierce on Lift Up! From the swaggering opener "STS" to the stomping blues-holler "Lift Up Your Mighty Soul" to the stately southern swing of the traditional "I'll Fly Away," this is a band that knows where its roots lie, but also where its branches are reaching, far out into the world, a world that, as Murphy notes, seems invariably to express its deepest spiritual desires and celebrations through music. 
Mighty Souls Brass Band is a group attuned to that desire, that celebratory spirit. It's a music that swings, that soars, that swoons—all of which is suggested by that profound, that humble, that most human of words: "Soul." 
How mighty, indeed.
–Eric Waggoner
---
---