Sid Selvidge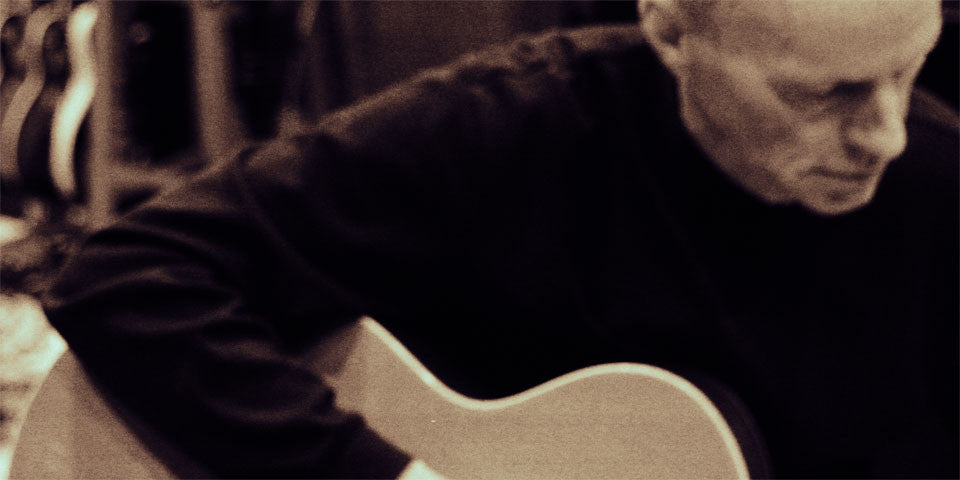 Sid Selvidge endured in the American folk scene with a genial yet uncompromising attitude toward his work. He hoped you would like his music, but it was more important that he like it first.
For such a well-regarded recording artist, Sid Selvidge was unusual in maintaining an atypical, almost studied indifference toward the spotlight over his decades-spanning career.He's edged in and out of its glare, finding it warm at points but harsh at others, stepping into it when necessary, but was comfortable being cast in a softer, more intimate light.
Selvidge was not, in other words, a singer who has ever truly aspired to command adoring gazes of coliseum crowds, or to sing duets with household names, or pined for a day when his music might be used in a car commercial. Any one of those things, he once suggested, might well be the end of him.
The ideal size of a Selvidge venue? No more room than for a couple hundred people at most, he said. The frequency with which he would cut a new record? He figured they've come around every seven to 10 years. Genial and frequently sporting a friendly gaze, a natural-born storyteller with a penchant for detail, Selvidge was an elder statesman of American music who, when faced with an artistic fork in the road, contentedly took the path that led right back to home.
Because home was Memphis, Tenn., and because Selvidge was a native of the Mississippi Delta, the texture he's fashioned through a lifetime of work cross fades between 1960s coffeehouse anthems, spare, plaintive Anglo folk balladry and raw, across-the-tracks African-American musical influences – all with palpable credibility.
In straddling a folk-blues line, a sonic space where a singer can easily ring corny or aloof, Selvidge's lilting falsetto conveys both a humble and authoritative air, eschewing brash ownership in favor of a gentle, respectful custodianship for the mother music of the land.
And yet a case can be made that, more than most, Selvidge — whose career crisscrossed with Memphis musical luminaries such as Big Star's Alex Chilton, producer Jim Dickinson and bluesman Walter "Furry" Lewis — stood as close to the pure, bubbling epicenter of mid-20th century Southern popular music as anyone. Hewing to his own musical compass over the years speaks not only to his free-range musical ability, but also to the fact that Selvidge was the embodiment of Memphis' most heartfelt musical mantra, a true-to-the-music ethic that unveiled itself as creative compulsion instead of commercial ambition.
"I do this for myself. I have to do what I do," Selvidge said on a crisp winter evening in 2011 inside his downtown office near the tip of Union Avenue, a couple of blocks from the Mississippi River. "You make a choice that you're an artist, and you've got to learn how to say 'no.' To not say 'yes' was the hardest thing I've ever done."
But, he says, "I made a conscious decision that what I was doing was art."
Though it applies to many turning points, Selvidge was speaking in particular of the late 1960s and early-1970s, a period in his nascent career when his initial albums had met with success. Doors opened, opportunities beckoned and Selvidge recalled the allure of major-label offers and all — indeed, all — that they might end up meaning for him.
"I could have been a disco artist," he said. "I could have been Milli Vanilli."
Could have been is a de rigueur phrase of the music business that most artists invoke now and then, frequently with a sigh of contempt. By contrast, Selvidge said it with a sort of dodged-the-bullet relief, an understated astonishment that he was able to raise a family while contentedly forging a solid career neither pockmarked by compromise nor defined by disappointment. Instead, he is gathering new fans on the Internet, still recording, still married, still welcoming new grandchildren into the world. In his later 60s, with so many compatriots felled by excesses or burned from the caprice and whimsies of a musical career, Sid Selvidge is a Memphis survivor, personifying what it is not only to sing truly, but to also be true to oneself in the process.
Though he had a guitar by his early teens and played it a bit with friends, Sid Selvidge's creative impulses first revealed themselves chiefly on small-town, dawn-to-dusk radio — not as a performer but as a deejay. The station was WDDT-AM in Greenville, Mississippi, which fashioned its call letters from the famously bold Delta Democrat Times, its owner. 
 
In Greenville, says Selvidge, a native, "we thought of ourselves as being the most progressive town in the state of Mississippi, and even the South. I was a small, skinny kid in a town where the heroes were all football players."
Yet on the air, Selvidge loomed large. After winning a contest to become a WDDT deejay, he was a station fixture, working every weekend, playing rock 'n' roll and jazz instead of the station's standard songbook format as its owners worked to attract a younger audience. "It was there that I learned I had a voice," he says. "I also learned how to breathe with my diaphragm, which translated directly into singing. I also became a bit of a celebrity in my small high school crowd."
Like many Mississippi artists, white and African-American alike, Selvidge made an archetypical journey north to Memphis on Highway 61, albeit as part of a family move. This was in the early 1960s, and once in the city, Selvidge suggested, the burdens on a white, small-town Mississippi singer bent on understanding the music of his home region were unique. African-Americans newly arrived to Memphis found themselves mastering the various realities of segregated metropolitan life and learning how to use the city as a vibrant megaphone for their culture. 
Selvidge recalled his early time in Memphis as period of consciousness-waking — a time when he began to understand how much in Southern music was defined by or appropriated from African-Americans. While having come of age in the heavily black Delta, what, he wondered, had he really known? "Getting up to Memphis," he said, "was like pulling up the shades."

Selvidge's radio work continued at KWAM just across the river in the West Memphis, Ark., a station perched so precariously on the Mississippi's flood plains that Selvidge recalled it being damned near unreachable during a storm or river cresting. The time at KWAM was significant for Selvidge in that it offered his career's first true major pivot point, and showcased a decision-making pattern that would stick: Presented with an offer by a radio station in Clearwater, Fla. to begin his broadcasting career in earnest, Selvidge turned it down. He was learning a lot in Memphis, and simply desired to stay.
In part, this revelation owed itself to the era. Defined by race in so many ways, Memphis' cultural collision was playing itself out most vibrantly beyond the margins of polite society—in places Selvidge recalled as those where "the acid was dropping and the marijuana was coming in." Moving easily among an enlightened, progressive crowd peppered with other aspiring folkies, Selvidge—a student at then-Southwestern (now Rhodes) College—had no trouble taking cues from African-American artists several years their senior, and Selvidge found his in the bluesman Furry Lewis.
It was in locally storied, freewheeling Midtown Memphis venues such as the Bitter Lemon and Procapé Gardens where performers like Lewis (earlier recorded by folklorist Samuel Chartres while Lewis worked as a city sanitation worker) took center stage. Selvidge, proficient if not expert on guitar, found himself opening for Lewis and others over time, a framework of deference and respect to elder statesmen that would go on to span his career. Selvidge "was blown away" by Lewis, he recalled, remembering how the singer "became kind of a lynchpin for the hipster crowd coming along."

Lewis' lessons were about more than music. Through their friendship, Selvidge recalled how the Lewis "gently led a lot of us into black culture" and showed him "how to behave in mixed company. We were still quite paternalistic toward African-Americans we befriended," Selvidge said; regarding Lewis as a superior inherently challenged such ingrained, passed-down habits.
It was in this time that Selvidge and his friends — people like soon-to-be seminal sonic architect Dickinson and the erstwhile, wide-grinning creator-at-large Jimmy Crosthwait — were groping about for their place within the Southern musical pantheon. "Dickinson, (Don) Nix, people like that were trying to learn how to be producers," he said.
 
Unlike many of his Memphis contemporaries, Selvidge maintained a quirky dual existence as a balladeer-academician, increasingly interested in music while seemingly tracking toward a career as a professor. Newly married to wife Shirley and having begun graduate anthropology studies at Washington University in St. Louis, he continued involvement in the Memphis folk scene, traveling to and from the city, blending blues and folk into his own soft yet penetrating voice and learning, too, that his voice would soon have wider appeal. "It was an interesting dynamic," he says. "All I wanted was to make sure that my ass didn't get drafted."
"Portrait," Selvidge's debut album, was released in 1969 on Enterprise, an offshoot of the legendary Memphis soul label Stax Records. Produced by Nix, it yielded a charted song, "The Ballad of Otis B. Watson," an anti-war tune that would profoundly color Selvidge's relationship with commercial radio. Reacting to advertiser pressure, Selvidge recalled, stations were quick to take the popular song off of the air – an irony for a former deejay who had long enjoyed easy access to the airwaves.

With his graduate work just shy of a completed dissertation, Selvidge was offered a passport back to Memphis in the form of an anthropology teaching post at Rhodes. During a five-year run as Professor Selvidge, perhaps the full-time return to Memphis as a folksinger in academic garb cast a sharper relief on the impossibility of his dual existence. When Selvidge signed a deal with Elektra Records during this period, the divergent path it offered again suggested that a choice be made—and Selvidge elected to plunge into music wholeheartedly.
"The wisest decision I made was to quit Rhodes," he said. "I was a better singer than I was a scientist. "I said, 'OK, this is it.' When I burned those bridges, there was no turning back."
There were times, however, where he might have wanted to do so — when being a solo artist indeed meant carrying the burdens of not only playing good music but serving as a promoter, a booking manager and, as it happened, the proprietor of a record label. The latter occurred when Selvidge found his third album, "The Cold of the Morning," essentially dumped on his doorstep after a partner running the locally based independent Peabody Records — named after the city's grandest hotel — suddenly decided to quit. Brusquely, it left Selvidge with an intimate acquaintance with the unstable nature, let alone 1,000 copies of his album.
Talent proved the record's saving grace. "Cold of the Morning" a beautiful, spartan record that beat the typical sophomore-effort jinx, established Selvidge firmly as one of the city's most eminent folk artists. The record, produced by Jim Dickinson, is "as spare as you can get," Selvidge said. "I like spare music. Maybe that's part of my personality, being a solitary guy except for my family."
The album was received well enough to secure bookings for Selvidge in New York, whose Greenwich Village neighborhood served as the urban epicenter of the American folk-rock movement. The city received him warmly. "His voice is an astonishing instrument," seminal New York Times music writer Robert Palmer wrote after hearing Selvidge at the popular Manhattan club Tramps, describing his voice as "cool and liquid with a range of several octaves." Such notices, combined with approval from highly attentive audiences at Tramps and other New York listening rooms during the zenith of their culture-charting power, soon led to major-label interest, including from the Atlantic and Rolling Stone labels.
A glimpse of what might accompany such offers — the notion of a Memphis folk singer more or less cast into the concrete canyons of Manhattan and all that played out there — did not seem a good fit to Selvidge. Seeing the unseemly transformation undergone by some other artists, he feared success on a more commercial level would strip him of his roots. Instead, it was in Memphis where he would remain, playing music in a simple style, the way he always loved.
Combined with continued performing, Selvidge pushed forward with Peabody Records under his stewardship. The label embodied Memphis' wildly anachronistic and eclectic streaks, issuing Alex Chilton's "Like Flies on Sherbert" (a critic-splitting effort produced by Dickinson regarded alternately as a too-wild collage or a free-range masterpiece), a largely ignored album by Memphis native Cybill Shepherd ("People don't like celebrity records," Selvidge recalled) and, more notably, Selvidge's own "Waiting for a Train." All the while receiving enough push from positive reviews to stay active on the American folk circuit, Selvidge also lent himself to dabbling with Mudboy & The Neutrons, a raucous side project of a band comprised of Selvidge, Dickinson, Crosthwait and Lee Baker.
In 1993, Elektra/Nonesuch released Selvidge's "Twice Told Tales" as part of its American Explorer Series. The occasion led to Selvidge performing at Carnegie Hall with his then-19-year-old son, Steve, a guitarist who has since gone on to his own music career, most recently as a member of the popular New York-based rock band The Hold Steady. Sid Selvidge remained especially proud of "Twice Told Tales," less so for its international reach than for the fact that his appearance in the series served as an amplifier for the types of songs he kept alive through the years. ("Twice Told Tales" features two Furry Lewis tunes and one by another regional blues sensei, "Mississippi" Fred McDowell.)
While Selvidge summarized recent years as a period of "just playing, just scuffling," the world has continued to take notice. Comments about his playing have remained thematically steady for decades, paralleling Selvidge's expert musicianship and respect for the music he loves to sing. In 1993, New York Times reviewer Peter Watrous found a performance by Selvidge in the city to be a highly knowledgeable, extremely dexterous, cliché-free romp through a songbook of Southern treasures. "The whole performance offered an easy way into an American tradition," Watrous wrote, "avoiding a path usually fraught with cultural misunderstanding."
While staying true to his instincts over decades, radio found a way back into Selvidge's life. In 1996, he worked to help found "Beale Street Caravan," an internationally aired hour-long show filled with live recordings of energetic blues performances from the Memphis area and beyond. The highly original show (check www.bealestreetcaravan.com for air times) is a rarity in the often homogeneous radio landscape, amplifying artists who, like Selvidge, have chosen careers dedicated more to musical artistry than explicit commercialism. (In another instance of things coming full circle in Selvidge's life, Cybill Shepherd hosted segments on women in blues in 2011.) Selvidge would continue to balance radio work and occasional touring for sixteen years. "You've got to do a little bit of everything, especially if you're going to be in this town," he said.
In recent years, Selvidge created three albums for Archer Records including "A Little Bit of Rain" (produced by Dickinson), a career-spanning live album and DVD, "Live at Otherlands" (a popular Midtown Memphis café) and 2010's "I Should Be Blue." The latter featured duets by New York-based singer/songwriter Amy Speace and a rhythm section anchored by the album's producer, Don Dixon, highly regarded Memphis-based drummer Paul "Snowflake" Taylor, and guitar work by Steve Selvidge.
 
There was more to come, and in 2011 Selvidge described his songwriting as "happier, funnier" than in the past. He viewed his younger work as more choked with "angst," and said: "The older I get, the less I want to hear about it in a song." Even as his guitar work has been praised throughout his career, Selvidge spent more time than ever practicing. "The last few years, I've been trying to learn new guitar parts," he said. 
Selvidge was initially diagnosed with cancer in 2010 while touring with Amy Speace to promote "I Should Be Blue." He was treated and returned to complete the tour. The cancer returned and Selvidge fought the disease for two years. He recovered long enough to make one final recording and video in September 2012 for The 78 Project directed by Alex Steyermark. Singing in a baritone voice, which he likened to Mississippi John Hurt's, Selvidge made his last recording with one microphone, direct-to-disc on a 1930's Presto recorder with son Steve on guitar.
---