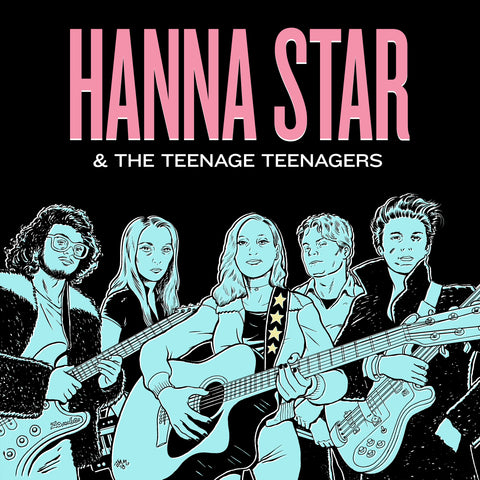 Hanna Star and the Teenage Teenagers
Vinyl includes download code
Hanna Star's Hanna Star & The Teenage Teenagers is a bit of a sonic time capsule: featuring songs written throughout her adolescence, it chronicles her coming-of-age while also capturing the end of an era. The timing is right to put the lid on this capsule and share it with the wider world, as Hanna prepares for some major transitions – this fall she'll begin her second year of college studying abroad in South Korea. 
"Music will always be a staple for me," she says. "It'll always be there, and I'm excited to see how traveling will inspire me and give me new experiences to write about – but this record sort of puts a wrap on 'Hanna Star & The Teenage Teenagers,' which has been such a huge part of my identity for such a long time." 
Fittingly, some of Hanna's favorite songs on the record provide the perfect soundtrack for moments like this: transition, change, uncertainty. She wrote the sparse ballad "Close" as she was preparing to leave home for college, about her relationship with her brother and anticipating being away from him for the first time. 
The album was tracked at Music+Arts Studio with Griffin Rone on bass, Roman Darker on rhythm and lead guitar,
Georgia Coles
on keys and backing vocals and Paul Taylor on percussion, as well as Jonathan Kircksey (cello), Jessie Munsen (viola), Adam Woodard (guitar), and Ross Johnson (drums).
From the ukulele-driven pop melody of "She's Not Me" to the Western twang of "Devil's Got a Hold," Hanna Star & The Teenage Teenagers is an eclectic journey through rites of passage from a young songwriter whose career – while she may be closing this musical chapter – is only just beginning.
---
---